We landed at Charles de Gaulle airport yesterday morning around 6:45, and took a taxi to our hotel. There was an accident in one of the tunnels, so it took over an hour. It was really wild to watch the emergency vehicles driving BETWEEN the lanes of traffic!
We were lucky that we were able to get into our room as soon as we arrived. After checking in, we went out for a quick breakfast at a local patisserie, then returned to our room for a nap.
When we finally regained consciousness, in the early afternoon, we walked to the
Musee d'Orsay
.
We wandered around the Orsay for a while; unfortunately, no photography was allowed inside. Then we strolled back to our hotel, stopping at a sidewalk cafe for wine and cheese.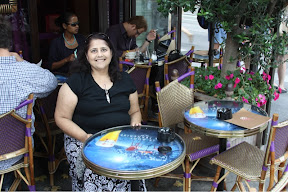 After another nap, we set out to explore 'our' neighborhood and find a place for dinner. We ended up at a charming Bistrot called Peres et Filles, where our dessert was the most amazing molten chocolate cake I've ever had (and yes, I'm a connoisseur!)
Then after a short stroll, jet-lag struck again and we came back to our room to read and relax.
Our first day in Paris was
fantastique
!
- Posted using BlogPress from my iPad
Location:Artus Hotel, Paris