Our trip to Giverny was completely different from the tour of Auvers the previous day. We did have to get on the road very early in the morning, which was somewhat annoying, but when we saw the gardens in the early morning light, the reasoning became clear.
We were able to wander around the gardens for close to half an hour before we were able to get into the house. I went crazy taking macro photos of flowers and trees.
The house finally opened, and our group was able to get in first, but we were rushed through pretty quickly, and I wasn't able to take any photos.
Here's one of the outside, though: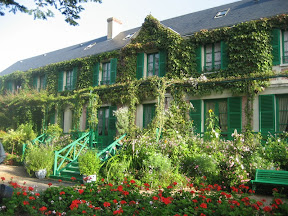 After that, we had quite a while to have some tea and tour the village, which was absolutely adorable. There was an exhibit of Impressionist art in the
Musee des Impressionismes
, where we spent quite some time.
Then we returned to the boat for lunch, after which we took a stroll through Vernon,
before the boat headed to Rouen.
- Posted using BlogPress from my iPad
Location:Giverny, FR