As you can tell, I'm having a little trouble keeping the blog up to date with our trip. I'd planned on writing/posting last night, but was coerced into a rousing game of Scrabble instead.
Tuesday morning, we did a final tour of Musee d'Orsay, mostly so that I could see the Van Goghs. They were amazing, and I actually went through them twice.
In the afternoon, we headed to the Hotel Pullman-Paris in Montparnasse, where we were transported by bus to the Quai Andre Citroen, where we boarded the ship on which we are now cruising down the Seine.
Wednesday, the ship remained in Paris. Tod and I decided to forgo the scheduled bus tour around the city and went to the Eiffel Tower.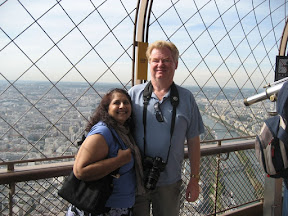 Here we are at the top of the Tower.
Then we took the Metro to the Latin Quarter, where we had lunch next door to
Shakespeare & Co.
. I managed to refrain from buying any books there, mostly because I didn't want to carry them around for the rest of the afternoon.
We'd headed for the Latin Quarter to go to the Musee National du Moyen Age,
(that's a model of the building) where the the famous tapestry of is located, along with several other tapestries and many, many religious icons, statues and stained glass.
Early this morning, we set off down the Seine. After lunch, we'll be docking in Conflans, and doing a tour of Auvers sur l'Oise, where Vincent spent his final years.
More anon...
Location:The River Seine